Kat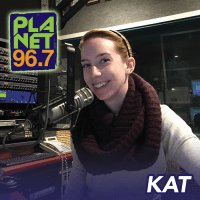 What up!
Kat comin' at you from the Planet Crew! Two years ago, I was stuck in the vicious cycle of papers, agony, and steadily growing debt that society calls "college". To break the hum drum glum, I approached Planet 96.7 looking for an internship in the Spring of 2014. After stepping in the lobby, Stevie Beats greeted me with a "Welcome to the Crew!"
As an intern I learned the ins and outs of producing the radio elixir pumping across your eardrums that we lovingly call Planet. Fast forward to end of Summer 2014 and Slater approached me with the offer of a permanent place in the Planet Crew. I did what any sane person would and settled into the Sunday afternoon time slot.
Graduated with a B.S. in Broadcast and Streaming Media, specializing in Sound Production, I couldn't be more proud to be part of the Planet family. Since joining the crew, the station has grown a tremendous amount, and I'm excited to continue to be part of Planet's great radio adventure!
The Kat's out of the bag!
Hang out with me every weekend, Sunday 3pm-7pm, as I give you the down low on all of Planet's biggest contests, celebrity tid-bits, and hilarious insight on life!